Please see the NinjaTrader 8 Help Guide and contact NT Support at www.ninjatrader.com for more details and assistance:
https://ninjatrader.com/support/helpGuides/nt8/?global_simulation_mode.htm
What is Global Simulation Mode?
When Global Simulation Mode is enabled, all order entry interfaces (SuperDOM, Chart Trader, etc.) will only allow selection of a simulation account . Enabling this is not necessary in order to route orders through simulation, because you can still set any order entry interface to the Sim101 account individually. However, Global Simulation Mode provides you a method to ensure that you do not accidentally place an order to your live trading account.
How to enable or disable Global Simulation mode
1.From the NinjaTrader Control Center select the Tools menu.
2.Then select the menu item Global Simulation Mode
3.When the check mark appears next to the menu item Global Simulation Mode it is active, and when the check mark is not showing Global Simulation Mode is disabled. Free license users are not able to disable Global Simulation Mode.
4.In addition, you can set NinjaTrader to always start in simulation mode via the Simulator Tab in the Options window.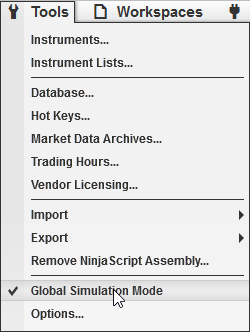 How to start NinjaTrader 8 with Global Simulation Mode: Off
Control Center > Tools > Options > Start in global simulation mode: On/Off